Wedding coordinators can really make a difference when it comes to planning your wedding. It's like having a conductor for the orchestra. I highly recommend that you use a professional or have a trusted friend or family member be put in charge.

Solo instrumental guitar is perfect for wedding ceremonies,cocktail hours, and reception dinners. I can play any or all of these events.

Quite often I will play the ceremony and then a cocktail hour. While guests are attending the cocktail hour the bride and groom are having photos taken and spending a few minutes of quiet time together before their grand entrance. When the bride and groom have returned, the guests are seated for dinner and the DJ (or band) announces the newlywed's entrance and then continues the music for the rest of the evening.



You can hear samples of most of my music on my personal webpage. I prefer that songs be chosen from one of my song lists but I will sometimes learn special songs. Although, that is not a guarantee until I hear what the song is.


PRICES...
Prices can vary slightly depending on the situation, but as a rule my prices are as follows...

$150 for the first hour
(one hour minimum).
$50 each additional hour (billed at $25 per half hour).
$25 per hour travel time (outside of the St. Augustine or Hendersonville area).
Discounts for weekdays.
Payment is due on the day of the wedding. Some of the wedding coordinators will include my fee in with their package. I generally do not attend rehearsals.

Email Me at rkuncicky@gmail.com for more information or call me at (904) 501-5403...
daytime only please.

Wedding & Reception Locations - St. Augustine
The Reef ~
Banquet room, excellent food, weddings on the beach.

Lightner Museum Courtyard,
The Wedding Authority ~
My favorite wedding location.


Here are some suggestions for musical selections. Keep in mind that any of the pieces of music can be used in any section of the wedding... these are only suggestions. There is also a complete song list on my homepage for additional ideas. Click on the song to listen to a short clip.

Amazing Grace
Anything from my complete song list.

Saint Augustine, Florida has always been a very popular spot for weddings. With it's numerous picturesque gardens and courtyards, romantic horse-drawn carriage rides, five-star restaurants and quaint inns, it's no wonder that it's such an ideal spot for wedding ceremonies and receptions.
For many years now, I have been providing the musical ambiance for many of these memorable events. Whether a large extravagant wedding or a simple affair, indoors or outdoors, the guitar can be a wonderful addition to your ceremony and reception.
Because I am playing the music live and in person -- I can time the music to fit the processionals. When you reach the alter the music will end in a normal, natural sounding fashion and not stop abruptly or fade out too quickly. You don't have to worry about following the music -- The music will follow you. It's one of the benefits of using a live musician.
I am happy to announce that I am adding Hendersonville, North Carolina and the surrounding areas as a new location for my wedding performance business during the spring, summer, and fall months. I look forward to meeting new friends and clients.
Give me a call or text, or Email Me me and let me know how I can be of service to you or if you have any questions."
Cell Phone: (904) 501-5403 (daytime only)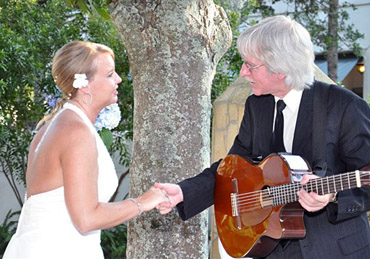 WEDDING MUSIC...
Most of the weddings I play follow a basic format, although any part of it can be altered or customized to your liking... anything goes, it's your wedding.
In general, weddings are divided into five sections: prelude, processional, ceremony, recessional, and postlude. You can choose the selections of music to be performed during each of these portions from any of my song lists. If you have no preference then I will be happy to choose for you.
Prelude music is the music that is heard 20 to 30 minutes prior to your ceremony as the guests are arriving and being seated. I've found that a variety of light classical and New Age music works the best. Sometimes a jazz standard or love song is a nice touch. As the ceremony nears I usually play more classical. The last piece in the prelude is usually a special selection for the seating of the mothers, grandparents, and other special people... a more serious classical or religious piece works well here.
The Processional music begins once everyone has been seated . There are usually 2 pieces of music chosen... one for the bridal party (bridesmaids, flower girls, etc.) and one for the bride. The bride's processional music is typically more spirited than the bridal party's processional music. Pay special attention to how long the bridal processional will be. I've had some couples pick out several minutes of music only to have the bride race down the isle in 20 seconds. A short piece of music can be repeated, but a long piece of music can sometimes be awkward to end abruptly. This entrance is one of the most important moments of the day.
But wait... you might ask "what about the officiant, the groomsmen or the groom'. You can pick a special piece of music for their processional or no music at all. Many of the weddings that I have played have the officiant lead the groom and the groomsmen up rather quickly with no music. Once they are in place the the processional begins. It make the bridal party and bride really stand out.

Sometimes music is used during the ceremony. You might have a sand ceremony, a Unity candle or some quiet music behind a meditation or reading. If you have someone who wants to sing a song, I can probably back them up on guitar. A special love song can work well here, or no music at all.

The recessional music is played as you and your new partner exit arm in arm. This music should be majestic and joyous with a quick tempo. I often play several pieces of music, one after the other.
After the recessional, postlude music is performed as your guests are leaving, or perhaps there is a receiving line or photographs yet to be taken. I usually play a variety of music for about twenty minutes or until people start to filter out towards the reception or the bride and groom leave the scene. Anything goes here... be creative. Have fun.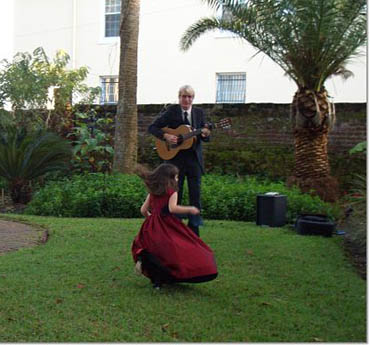 Richard Kuncicky has spent most of his career playing in the St. Augustine area. You can find him performing at many locations throughout. See Calendar for details.




© 2021 Richard Kuncicky. All text, graphics & code are the sole property of Richard Kuncicky. Unauthorized duplication prohibited.